The Map of the East in Brokedown Palace
There are currently two editions of this book, a paperback published by Ace Fantasy in 1986, and a tradeback published by Tor Books (on their Orb Books imprint) in 2006. Each has a map of the East by a different artist.
The Ace edition map was created by Kathy Marschall and Malgorzata Rozanska.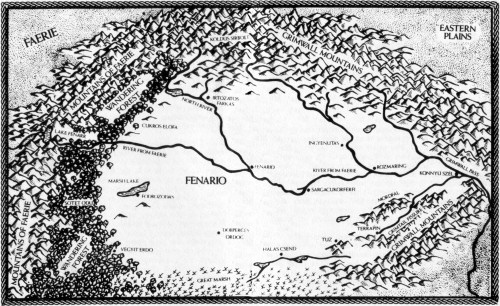 Map by Kathy Marschall and Malgorzata Rozanska
The Tor edition map was designed by David Cain.
Both maps are displayed with Steven Brust's permission.
I performed some minor alterations to these images to minimize the seam when I stitched the two sides together.
Differences
While the two maps are essentially the same, there are a couple of differences I think are worth mentioning.
Lake Fenarr
Lake Fenarr is immediately to the left of the label "LAKE FENARR" on the Ace map, and runs vertically (that is, it runs more north/south than east/west).
On the Tor map, however, it is clearly located immediately beneath the Ace label, is much larger, and runs east/west.


Lake Fenarr
Steve has confirmed that the Ace map is correct in its depiction of Lake Fenarr.
Fenario
It appears the city of Fenario has jumped the River between the two maps.


Fenario
On the Ace map, the dot that represents the location of this city is very difficult to see clearly, since it is located exactly where the book is bound, but it appears to be on the north side of the River to me.
I do not know which side of the River Fenario is on, but I have assumed the original map is accurate for the mapping project.
Questions? Comments? Please contact me at dragaera [at] bryann.net.
Copyright © 2011 Bryan Newell, unless otherwise noted.